To quote the greatest political mind of our generation, "Honestly, I am dumb. Most of the time I'm just playing smart."
I am the Son of Sam Seaborn.
***
Every now and then, Doug Sosnik, a former White House political director for Clinton, releases a "big think" Powerpoint presentation that Axios' Mike Allen swears is "eagerly awaited by political insiders and activists alike."
The thing is though, I don't know a single "political insider" or activist who gleans anything of value from these things. The average cable news viewer could tell you the same supposedly "provocative, market-moving" top lines from Sosnik's decks.
For example, the July 21st deck included such broad, obvious insights that I actually called up my dad — a casual MSNBC viewer — to see if he could penetrate as deeply into the electoral psyche as the esteemed political strategist:
For those currently absorbed in a podcast or jamming out to Spotify, he got nine out of nine questions correct (with an asterisk, due to the subjective nature of the word "fluctuation").
Americans, indeed, say the coronavirus is getting worse. There is, in fact, a decline in GOP satisfaction with the way things are going in the country today. An overwhelming number of Americans do believe the country is on the wrong track. Trump's approval ratings have remained largely unchanged since he took office, and they do align closely with his handling of the virus. There are wide divides by gender, age, education, race, and ethnicity when it comes to voter preference, Biden is leading Trump in most battleground states, and we will see historic levels of early voting.
It was like the world's easiest game of Wait Wait… Don't Tell Me!.
Sure, Sosnik's got graphs and tables and a few morsels of interesting data: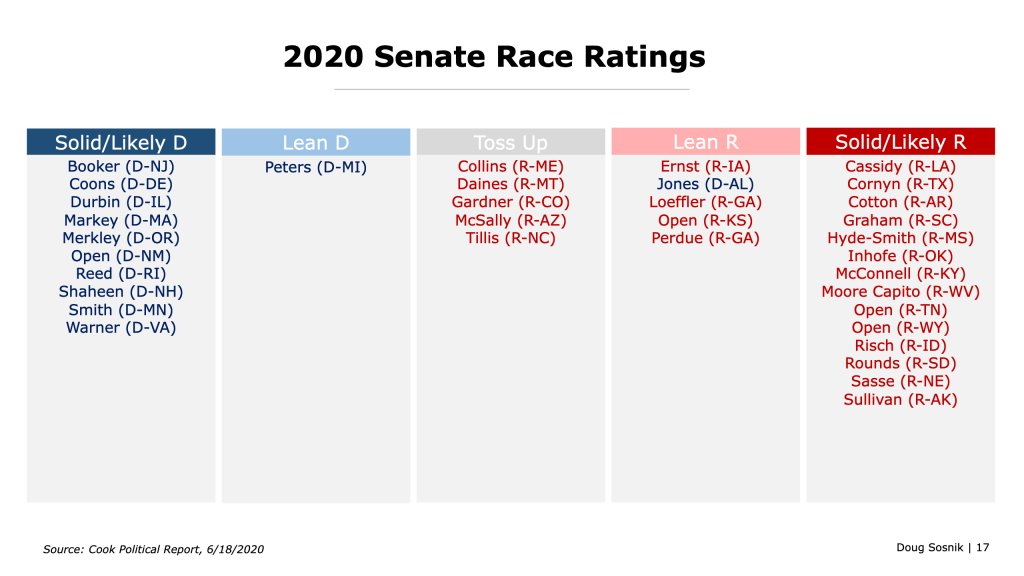 But if any "political insiders" or activists need the above table to know which Senate races are toss ups, they need to not be doing what they're doing.
To be fair, it's certainly not only Sosnik (who I feel like went from casual example to prime target of this intro really quickly) putting out these kinds of PDFs and memos. Every firm has a set of "provocative, market-moving" insights. Every consultant has put together a slideshow breaking down generic messaging strategies. They're everywhere.
Isn't that right, opening slide for lobbyist Bruce Mehlman's newest deck, which looks like it was made using Windows 95?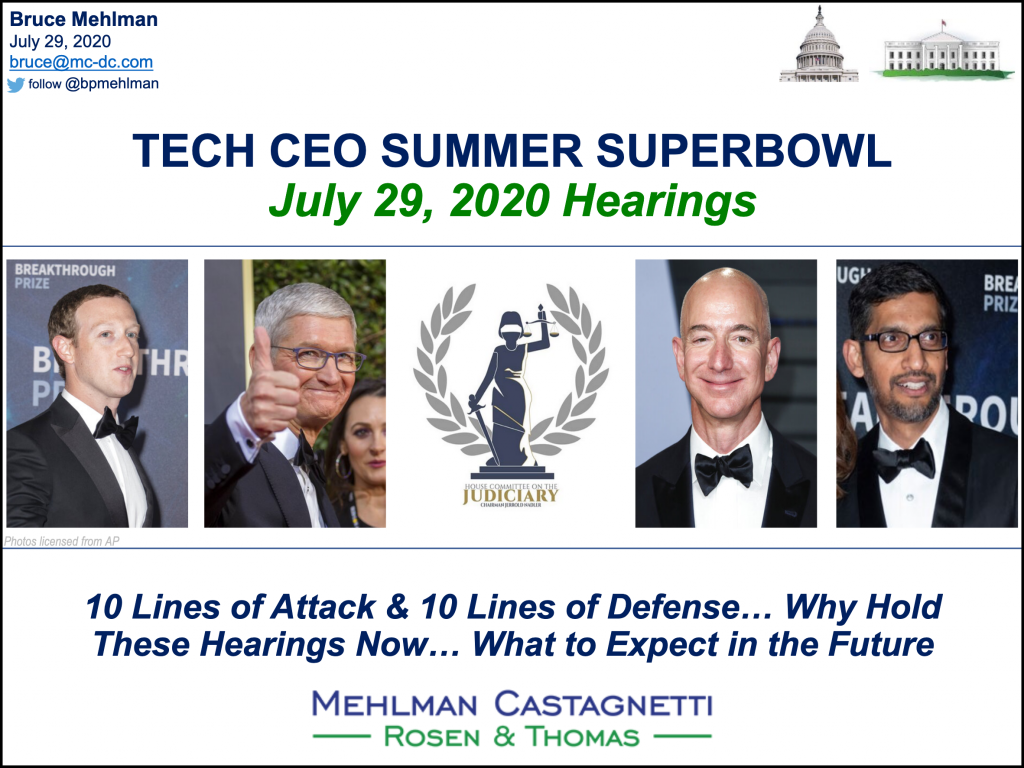 And, swampiness aside, that's fine. It's whatever. It's what keeps the revolving door between public office and K Street a spinnin'.
Except this election season is too damn short and too damn important to scroll through uninformative, neutered decks.
So, in the spirit of this mark on the wall of the internet, I'm going to try crafting something at least slightly more worth your while.
The State of the Race
"I'm not saying I don't like our chances." — Sam Seaborn, Season 1, "Pilot"
As mentioned above, Biden is doing undeniably well right now. National poll numbers are juicing his overall tally a bit, but he's currently ahead in Michigan, Wisconsin, Pennsylvania, Florida, and North Carolina by between 5 and 8 points. The latest polling even has him up in Texas and Arizona.*
This is a blessing and a curse, though. With every new Cook Report, more and more mulberry red state Democrats are urging the campaign (et al.) to funnel money their way; both for the sake of the presidential election and the down-ballot implications. Unfortunately, modern money theory doesn't apply when it comes to campaign coffers and there is a suburban mom vote to shore up. If money does start flowing into new terrain though, expect it to go towards swaying terrified, vulnerable seniors. Data point: last week, it was reported the DCCC is targeting 47 GOP-held districts.
Also worth noting: "Democratic state party groups in traditional and emerging swing states are seeing a huge cash influx from donors looking to beat Trump."
* For the latest exact polling numbers, check Five Thirty Eight. Or The Cook Report. Or The Upshot. Life happens in real time; presentations don't.
What I think will happen: The House expands their majority, the Senate flips. I'd put money on it, but parlays are for suckers.
Cool? Cool.
Let's move on to the fun stuff.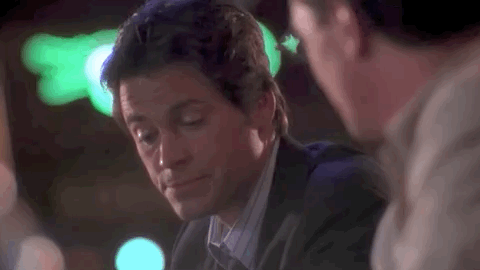 Campaign Strategies
"You know what I'd do if I owned a hockey team? I'd hire a sumo wrestler. I'd give him a uniform, transportation, $500 a week to sit in the goal, eat a ham sandwich, and enjoy the game. My team would never get scored on." — Sam Seaborn, Season 3, "Stirred"
Early in Biden's bid for the Democratic nomination, the Times reported that Obama urged him to make sure he not "embarrass himself" during his campaign. Which, by both choice and circumstance, has been the playbook for Biden and his team. The Trump campaign may be doing their best to move the needle with repeated "Basement Joe" attack lines, but there's no denying it's harder for one to get in one's own way when one doesn't have to go anywhere — and has plenty of surrogates, from across the political spectrum, doing a lot of the legwork.
Witnessing the coordinated release of Biden's "Build Back Better" plan last month was like watching the Democratic primary Avengers assemble for the first time. There's Elizabeth Warren talking about how much Joe believes in consumer protections! There's Mayor Pete highlighting jobs that'll be created under Biden's clean energy plan! There's Kamala hosting a virtual roundtable focused on 21st century caregiving!
What you haven't (and won't) hear any of them mention though — and what I find to be the most intriguing wrinkle — is that the concept of "Build Back Better" actually comes from the international development community. It was first defined and used for the United Nations' Sendai Framework for Disaster Risk Reduction and adopted by the UN General Assembly in 2015.
In other words, Democrats are approaching a post-Trump America the same way the Japan International Cooperation Agency approached Central Java after an unforgiving 7.7 magnitude earthquake demolished the entire Indonesian province…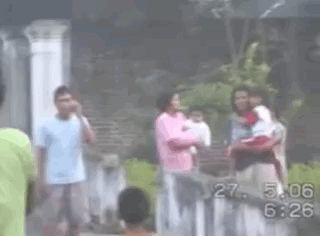 Meanwhile, both Trump's campaign staff and strategy are so gelatinous at the moment that it seems silly to try to nail it all down.
We do know that they will be pulling from Nixon's "Law and Order" script as much as possible and employing Ford's "Rose Garden" strategy to make up for the lack of base-enthusing, data-nabbing rallies. Recently, they've also been very explicit about attempting to court the suburbs with racist dogwhistles and fear mongering.
What we don't know is what the next 100 days will bring in terms of strategy pivots and staff shakeups (see: "Trump campaign temporarily pauses ad spending to review its messaging"). Since 2015, Trump has relied much more on (admittedly impressive) messaging, as opposed to legislative action, to keep his approvals closer to his 45% ceiling than his 36% basement, but that doesn't seem to be enough this time around. He's literally publicly focus-grouped different insults, yet neither "Sleepy Joe" or "Beijing Biden" has stuck, and it's hard to make someone who's defined centrism for decades look like he's a puppet for Big Bernie Bro.
Without a Hillary-esque foil in Biden, expect him to continue to conjure other enemies (e.g. Antifa, the Obama administration, Democratic mayors/governors).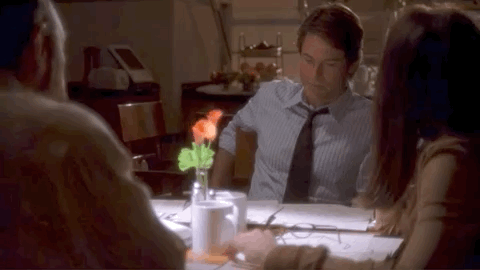 In terms of non-Trump Republican messaging strategies, Kevin McCarthy delivered a PowerPoint presentation to the GOP conference last week detailing their new "Three R's" approach:
"Renew the American Dream," which is going to be targeting individuals and encompasses such issues as school choice, workforce training, 5G, and expanding broadband in rural communities.
"Restore Our Way of Life," which is going to be targeting communities and is focused on defeating the virus and reopening safely.
"Rebuild the Greatest Economy Ever," which is meant for a nationwide audience and emphasizes deregulation, fixing roads and bridges, and criticisms of China.
Also worth noting: between WinRed, Brad Pascale's infamous digital prowess, and the Peter Thiel acolytes running around, it seems there is now a formidable Republican Red Skull to rival ActBlue's Captain America.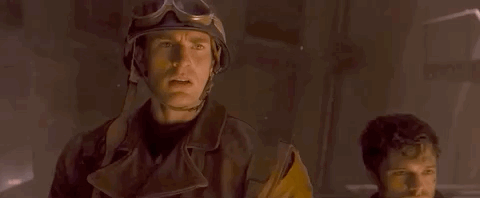 Messaging
"You know what this is called? Imagery." — Sam Seaborn, Season 1, "Mandatory Minimums"
In terms of messaging, the chorus of the Democratic songbook up and down the ballot is: "The coronavirus was always going to be bad, but it didn't have to be this bad." Which both acknowledges the poor hand Trump got dealt and opens him up to all different kinds of attacks. Ignorance. Incompetence. Apathy. Cronyism. Corruption. Whatever works best for a given congressional district/demographic. The only way this doesn't pay off is if the economy bounces higher than any dead cat in history.
Relatedly, the other main reason the "Build Back Better" plan was so grandly introduced was so the former Vice President could leech a little of the "I've got a plan for that!" magic from Warren. He is not only going to undo all the things Trump did (/redo all the things Trump undid); he's going to X, Y, and Z, on Day One. He is prepared, he is informed, he knows exactly how to "build back better."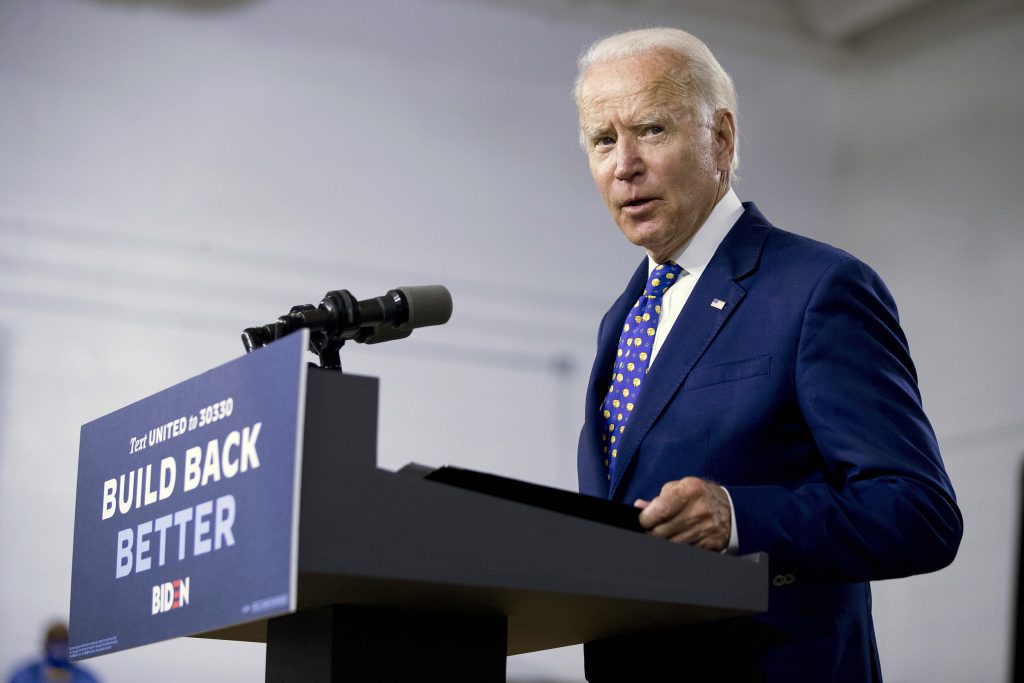 So far, the official Biden YouTube account has released ads focusing on:
The coronavirus, an umbrella issue that allows the campaign to release a video of a young woman telling the story of her grandmother's quick deterioration and the heartbreak of knowing she would die alone, a collage of "small business owners reacting to Trump's comments on the economy," and a flurry of examples demonstrating Trump's inability to "feel Americans' pain"/take responsibility for his actions.
The United States' standing in the world, a pressing issue that's both ubiquitous and somehow casually accepted at this point in Trump's tenure. Fortunately, there are multiple clips of multiple word leader's publicly mocking him. So that's a plus.
Background checks, specifically highlighting how Trump originally supported the incredibly popular gun control legislation only to flip-flop due to pressure from the NRA.
The economy, specifically spotlighting how Biden's hometown of Scranton, Pennsylvania is "a long way from Wall Street" where you can find "hardworking people that make this country work."
The phrase "Deer in the headlights," which must have done really well in focus groups or something, because the campaign uses it to describe everything from Trump's coronavirus response to his handling of Russian interference to his blighted Chinese trade deal.
Trump's narcissism, a bipartisanly acknowledged and disliked trait of the Commander-in-chief. One Biden ad specifically claims that Trump has uttered 260,000 words of self-praise when talking about the coronavirus; another paraphrases Bernie with the slogan "Mr. President, it isn't about you. It's about us."
Trump's bullying, another bipartisanly acknowledged and disliked trait of the Commander-in-chief. One ad in particular — my personal favorite of all that have been released — is simply Joe Biden, staring into the camera with those piercing blue eyes, recounting in his soothing, focus group-approved voice how growing up he was mocked for having a stutter and how that taught him to stand up to bullies.
Son of Sam Seaborn Says: The brilliance of this ad is that it not only not addresses one of the most universally loathed idiosyncrasies of Trump and frames Biden as Rocky, it reminds voters that Biden has had a stutter all his life (i.e. he's not just some mumbling old geezer).
Viewed in total, the ads paint the picture of a steady hand ready to handle an unsteady time. A man that's been whetted, not weathered.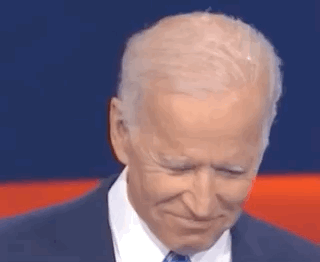 In another, longer election season, this would be the part where I get to be just as weedsy with some of the Biden-adjacent PACs' messaging strategies, but we're at 90 days and counting so read this if you really want to start tumbling down that rabbit hole.
Instead, I'm just going to throw a few, worthwhiling thoughts at the wall…
"We look good, don't we?" — Sam Seaborn, Season 1, "The State Dinner"
Obama is Dumbledore. Specifically, Act III of Order of the Phoenix Dumbledore. For the sake of the long game, he's had to intentionally distance himself from the Boy Who Lived (Through the Primary). But now, with the fate of the world on the line, he's gloriously returned to the castle; working his $24 million magic at fundraisers and reminding voters that while it's not his name in the Goblet of Fire, there is still a Chosen One who needs their help. And with a deftness only the truly great wizards can wield, Obamadore has mastered the swish-and-flick choreography that keeps Biden framed as the hero of the story.
Watch the since-viral "Socially Distanced Conversation" video the campaign recently released, and you'll see it's Joseph Robinette Biden taking the lead on the storming of the hallway.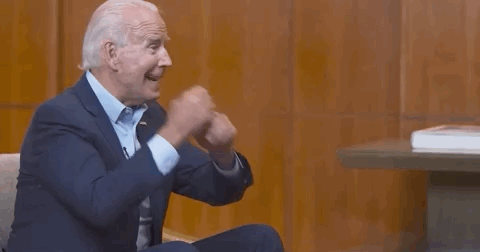 Obama is just a retired Hall-of-Famer happy to have more time for golf/Quidditch.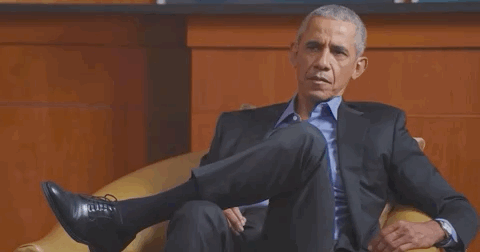 The charm is the magic is the trick.
And for putting up with that mixed Harry Potter/boxing metaphor, here's a clip I made where it looks like Obama is in the "Virtual Insanity" music video…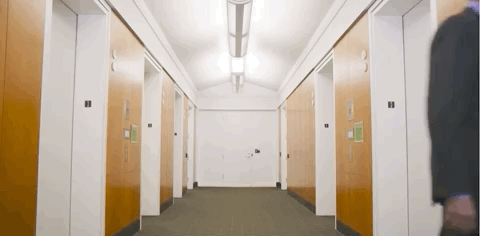 "Good writers borrow from other writers. Great writers steal from them outright." — Sam Seaborn, Season 4, "20 Hours in America"
"Whether you shower before work or after work."
Halfway through the first debate of the Democratic primary I heard Tim Ryan say that when discussing for whom his economic recovery proposal was designed, and it was such a great line I sprinted to my little pocket notebook to write it down. It's perfect. And it should be swiped by the Biden campaign. Immediately.
You know how many people know that Trump pinched "Make America Great Again" from Reagan? Not that many. So let's "Dream Big, Fight Hard." Let's emphasize "Deeds Not Words." Let's remind Americans to "[not] just hope for a better life. Vote for it."
Even "Yes we can." — one of the top ten greatest campaign slogans of all time — was first used by the Scottish National Party for the country's 1997 general election. Didn't know that one, did ya?
Power to the people.
"I'm a magna cum laude graduate of Princeton and editor of the Duke Law Review. Tell her I've worked for Congressmen and the D-triple-C. I have seven years at Gage Whitney, and for the last four I've served as Deputy Communications Director and Senior Counsel. Tell her I grew up two streets from here." — Sam Seaborn, Season 4, "Game On"
Back in 2016, my biggest frustration with Hillary's campaign is that they never told her "story."
Could the average voter have told you she was born in Chicago? Or that in her younger days she was actually active in young Republican groups but after hearing a speech by MLK she switched parties? Yes, you yada yada over the fact she campaigned for Goldwater in '64, but you ensure Americans wary of a scandalous Republican nominee know she was a member of the impeachment inquiry staff advising the House Judiciary Committee during the Watergate Scandal.
How is it that, four years later, we find ourselves on the verge of committing that same strategical sin?
To quote The Atlantic's Edward-Isaac Dovere:
He's old. He worked with Barack Obama. He's generally seen as a decent guy.
If you know more than that about Joe Biden, you know more than many voters.
Growing up in Scranton, Pennsylvania, or having to move because his father lost his job? Writing the Violence Against Women Act? The tragedies he's lived through, his years as a single father, how he rode the train back to Delaware each night when he was a senator? Even his supposed vulnerabilities, like helping to write the 1994 crime bill, running the Anita Hill hearings, protecting Delaware's financial industry, or blundering on foreign policy?
Many Americans don't know any of that, according to data from focus groups and polls conducted by Biden allies.
When Biden went on The Daily Show, he told Trevor Noah, "The good news is the bad news. The good news is that people know me. . . . And they know me warts and all."
This is a fallacy, and while I don't think it will be a fatal one, that doesn't mean it should go unaddressed.
Show the country the many sides of Joe.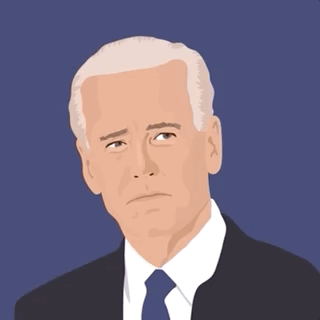 "Do we have some sort of condensed, Reader's Digest index of, well, all human knowledge?" — Sam Searborn, Season 4, "20 Hours in America"
Actually, yes. There was a sort of condensed, Reader's Digest index of all human knowledge. At least, the beginnings of one, as roughly 18 months before "20 Hours in America" aired, Jimmy Wales and Larry Sanger launched Wikipedia; one of the most underutilized tools in a campaign's kit.
Most people, understandably, don't know much about a great many things. And when it comes to presidential debates, one of the goals of the nominees is to prey on that ignorance with facts and figures that help their argument. The problem is — especially if the facts are on one's side — those mental wins are temporary. So, in addition to the typical post-debate spin sessions by campaign surrogates, why not hand out/blast out/post a digital cheat sheet linking to objective, trusted sources that Democratic voters can cite when post-debate discussing the relevant issues with swing voters/those across the aisle?
Arm the Democratic digital army with the best rhetorical weaponry free media can buy.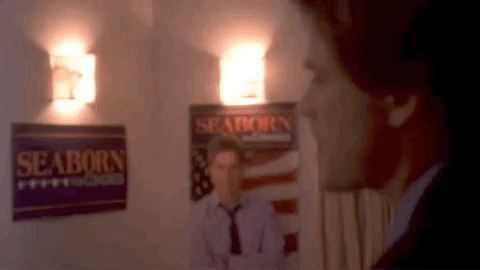 "I am a lawyer and a speechwriter. I argue for a living, and I'm sought after because I'm good at it." — Sam Seaborn, Season 1, "Post Hoc, Ergo Propter Hoc"
Speaking of the debates, can you believe that only a few weeks from now we'll be teleported to Case Western Reserve University in Cleveland to watch the first presidential debate? I. am. pumped. Who the fork knows what could happen?
Regardless, I have a few pieces of advice for JRB that will be applicable no matter the situation…
Get your GIF on, because if an image is worth a thousands words, a 5-second GIF composed of hundreds of images is worth…significantly more than that.
In 2016, C-SPAN broadcasted the entire debate in split-screen, with a few other networks doing the same; meaning that every single word Trump said was an opportunity for Hillary to react and land a visual jab. I have no reason to believe there won't be the same split-screen setup this year (and if there currently isn't, argue for it).
Trust in the second screen experience, because most people, especially those who will inevitably end up "shaping the narrative" of the debate, will most likely be looking at Twitter the entire time. However, this means going far beyond simply relying on the "we're immediately tweeting out a great pre-planned quote that just happened" move.
Personally, I'd create a dedicated Team Biden @DebateFactChecker type of account that calls out Trump's various lies in real time. And if I were feeling crazy, I'd have an outside group create a Democratic @DebateDrinkingGame type account that used puckish revelry to highlight every time, for example, Trump refuses to accept intelligence from his own national security experts. These kinds of patriotic binge drinking events already end up happening organically, but there's an opportunity for the Democrats to invite everyone imbibing to one "big tent" party, thus keeping them engaged and enthused. And maybe it's sponsored by insert beloved Cleveland brewery?
Know your blocking, because the most lasting image of the 2016 debate was this: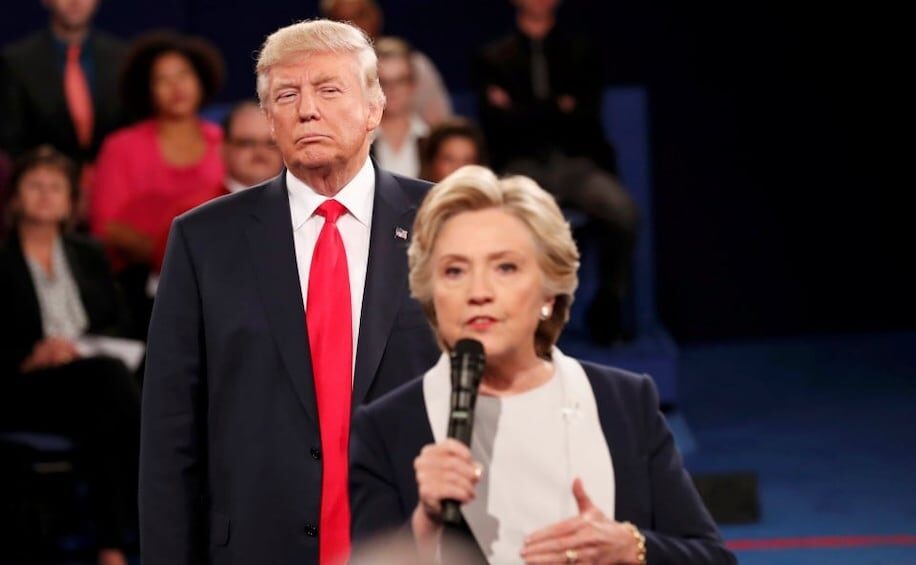 "Instead of retreating to another side of the stage like most candidates would when she talked, the hulking reality TV star hovered a few feet behind her, glowering as she spoke, like a lurking masher" — which played right into Hillary's hands.
Yes, Trump decided "lurking masher" was a good idea. But the Clintons have been setting up their debate opponents for visual failure ever since 1992, when a young Governor Bill Clinton first pitched the novel idea of a "presidential town hall debate" to the incumbent George H.W. Bush.
You might remember that election-altering event for this famous debate moment, when Bill Clinton connected with a young woman in a way the incumbent seemed physically incapable of doing:
At the 2:47 mark of the above video, just as Clinton is getting to the "with people like you, all over America" part, the camera angle even switches to a fortuitous shot from a lucky cameraman perched right over the audience member's shoulder — making it seem like we're right there with them: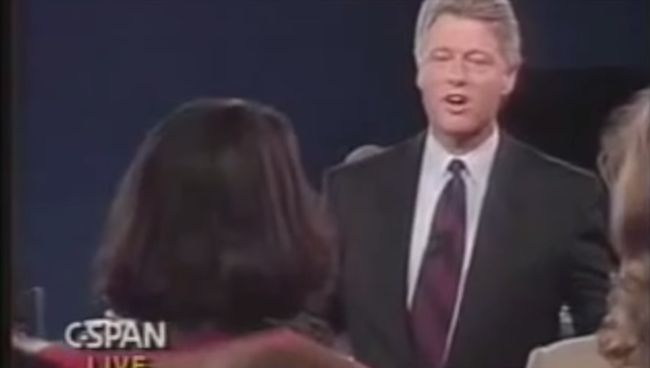 Except, as one former Gotham District Attorney will tell you, we make our own luck. Part of Bill Clinton's debate prep for this "first-of-its kind" town hall actually involved his campaign laying out a grid on their replica stage, with fake cameras and body doubles positioned to teach the candidate how to best use the space when giving his various answers.
And this bit of debate kabuki wasn't just about Clinton making himself look good, it was also about making his opponent(s) look bad: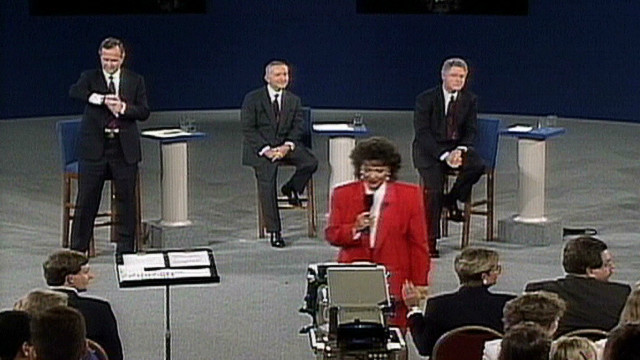 When Bush got caught checking his watch, it was the perfect visual encapsulation of Clinton's not-so-secret message that the President didn't care about the average American. In fact, the history books (and John Dickerson's fantastic Whistlestop podcast) suggest this once-innocuous town hall debate was the death blow to a limping Bush campaign.
Call out ignorance, because Donald Trump knows nothing about anything. The minute gun control gets brought up, ask Trump to recite the 2nd Amendment along with you at the same time. Hell, simply ask him how many amendments there are. Remember when Amy Klobuchar couldn't name the president of Mexico during that Telemundo interview? Because Latino voters sure do.
Son of Sam Seaborn Says: If I could give one piece of advice to gun control activists, it's memorize the 2nd Amendment (my trick is that A comes before B and the tricky syntax of the amendment begins "A well regulated militia, being necessary…"). You have no idea how many times "Before we get into the details about how we feel, let's make sure we both know the Constitutional language we're hashing out" has stunned gun rights advocates into silence.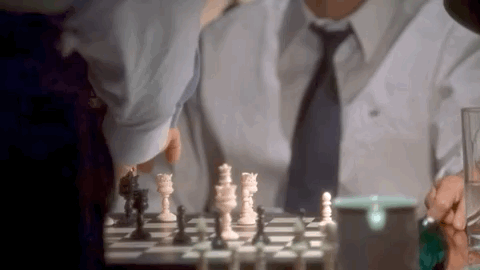 "I need you to tell me everything you can tell me about the Superconducting Super Collider." — Sam Seaborn, Season 3, "Dead Irish Writers"
One last debate thing. The moderators may bring up some of these topics anyway, but in addition to the necessary discussion of 5G technology, the phrases "rural broadband," "net neutrality," "available spectrum," and "double encryption" need to come out of JRB's mouth (and in a way that makes him seem like he knows what he's talking about).
Make Uncle Joe sound hip to the most important technological issues of our time; not the guy who can't even pull of a virtual town hall…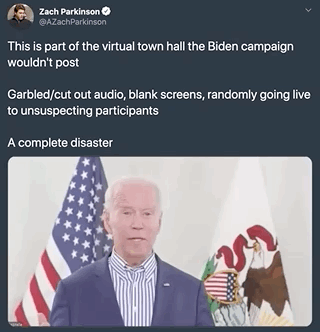 "There was an incumbent President, who was facing a primary challenge, and on the day of the primary, his staff sent his motorcade into a district that was heavily favored by his opponent in order to tie up traffic. Now I would like it plain that I would never do anything to temper an election, but…" — Sam Seaborn, Season 3, "Posse Comitatus"
Right now, there is a very real chance that foreign adversaries and/or malicious actors and/or somebody sitting on their bed who weighs 400 pounds will attempt to interfere in the actual voting process in some way or another. Cheese and crepes, there's a chance some ballsy fortune-seeking hacker has already successfully "[planted ransomware] on multiple networks that affect voter registration databases and [will] activate it just before an election. Or target vote-reporting and tabulation systems." All of which is bad. And the electorate needs to be aware of such threats.
Simultaneously, however, they also need to be assuaged when it comes to the security and reliability of mail-in voting; even as the administration and fundraiser-turned-postmaster general Louis DeJoy enact changes to asphyxiate the USPS and denigrate the mail-in voting process. To the point that the president of the American Postal Workers Union Local 183 admitted she is "actually terrified to see election season under the new procedure." Just a few days ago, voters in Michigan cast a record-breaking 1.6 million mail ballots.
I don't have one silver-bullet answer for how to walk this line. We can't be the dog saying, "This is fine," yet we also have to ensure trust in the electoral process. And maybe there is no one right answer, but a general consensus regarding the party's mindset/messaging strategy has to be found like whoa. One thing I would suggest is beating Democratic voters over the head with the fact that thanks to early voting, the election actually starts October 14th.
Data point(s): the Inspector General of the Postal Service reported that in the Wisconsin primary 2,659 ballots weren't counted due to their late arrival; in California, 70,330 ballots were disqualified because they missed the deadline.
Son of Sam Seaborn Says: I find it very comforting to read about all the different people/organizations gaming out all of the worst case scenarios when it comes to election interference and detailing how we could handle it. Nevertheless, two plausible scenarios I've come up with keep yanking at the back of my mind: someone changes a few votes in a swing county in Georgia and gets caught intentionally, therefore invalidating all votes; someone doctors a video to make it look like a voting machine is automatically changing votes (like what actually happened in the Mississippi gubernatorial candidate runoff).
On the bright side, it looks like Trump's relentless bashing of mail-in voting is turning away Republicans who usually and/or would vote by mail in this election. Multiple public surveys show a growing divide between Democrats and Republicans about the security of voting by mail, with Republicans saying they are far less likely to trust it in November.
"As a result, state and local Republicans across the country fear they are falling dramatically behind in a practice that is expected to be key to voter turnout this year."
Data point(s): roughly twice as many Virginia Democrats applied for absentee ballots compared to Republicans in the state's June 23 primaries; in Kentucky's primary, about 90% of Democrats cast their ballots before Election Day compared to 80% of Republicans; in Georgia, ~60,000 fewer Republicans cast ballots by mail compared to Democrats.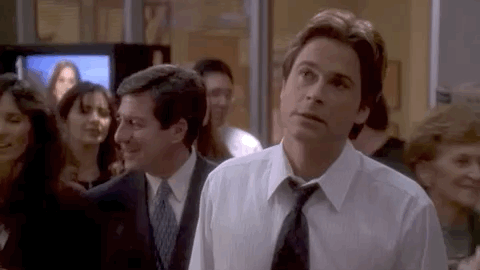 "Well, some of us have had more time than others!" — Sam Seaborn, Season 3, "Manchester"
The most talked about "thing no one is talking about" talking point is that while we are certainly not delaying Election Day, we are almost certainly not going to have an Election Night. Unless Biden pulls off such a rout in Florida that the state (/election) is able to be called the night of, we could be facing weeks and weeks of nation-ripping, litigation-heavy political unrest.
Not to mention, as Ben Smith wrote in his New York Times column, the media is preternaturally designed to "get the election story wrong." He does go on to list a few suggestions that might help remedy the situation (e.g. getting rid of the misleading "percent of precincts reporting" measure), but in reality the only practical plan of attack is hammering home — via any and all channels — the fact that this not-since-2000 abnormality is actually quite normal given the circumstances.
Son of Sam Seaborn Says: Mark Zuckerberg may be a robber baron, but I am thanking my lucky stars Facebook is apparently "planning a 'round of education' to support its users" and help raise awareness that "there's nothing wrong with taking days or weeks to come up with the final result."
Other Things Worth Knowing
"I can recite the members of Congress in alphabetical order." — Sam Seaborn, Season 1, "Post Hoc, Ergo Propter Hoc"
"Donald Trump's campaign has knocked on over one million doors in the past week alone. Joe Biden's campaign says it knocked on zero . . . Biden and the Democratic National Committee aren't sending volunteers or staffers to talk with voters at home, and don't anticipate doing anything more than dropping off literature unless the crisis abates. The campaign and the Democratic National Committee think they can compensate for the lack of in-person canvassing with phone calls, texts, new forms of digital organizing, and virtual meet-ups with voters."
"With no Olympics, and 60 Minutes and other shows in summer reruns, ABC's 'World News Tonight with David Muir' — for weeks — has been the most watched show on all of television."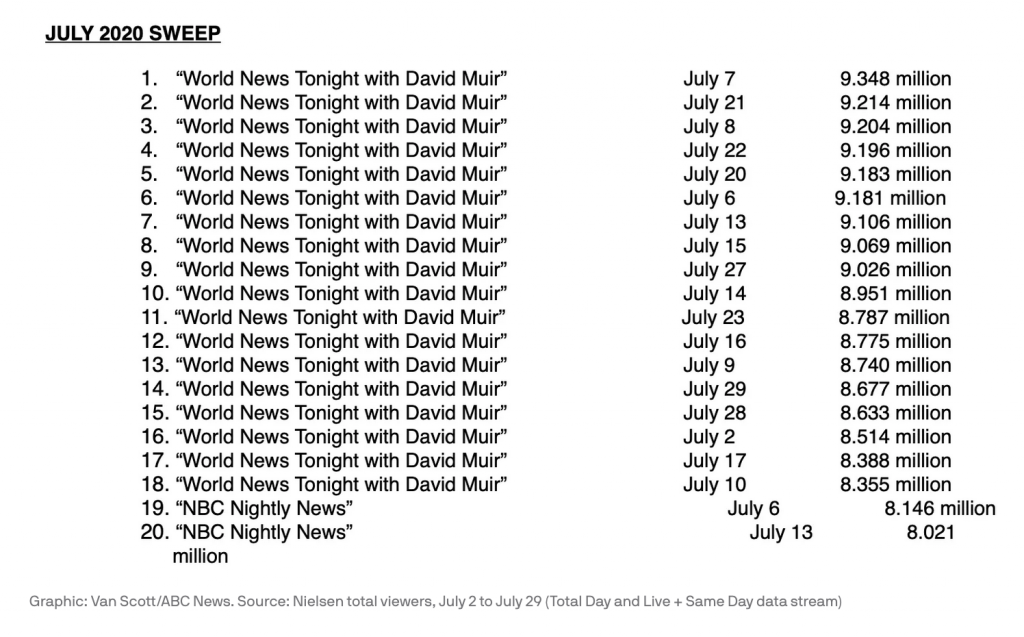 Political donations by non-disclosing groups, on both sides of the aisle, have reached stratospheric levels. During the entirety of 2018 election cycle, they provided roughly $178 million to federal political committees. By the end of June of this year, they'd already donated $177 million.
When Trevor Noah first took over The Daily Show, Comedy Central assumed people would be turning to Google to learn more about him. "So they shot several short videos in which Noah himself answered the internet's questions about him. . . . According to Comedy Central, the campaign generated 38 million impressions and 2.8 million views."
A Gallup poll of 135 countries found virtually equivalent rates of approval for the United States (33%), China (32%) and Russia (30%) when it comes to global leadership. "The U.S. approval rate is down from 48% in 2016, and it slides even lower among democratic allies like Canada (20%) and Germany (12%). Any significant improvements, the report notes, have tended to come in 'some of the world's least democratic societies.'"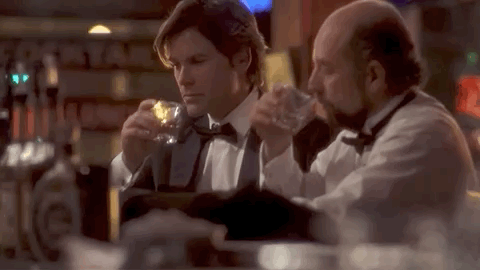 Half-Baked Ideas to Save the World
"Schools should be palaces. The competition for the best teachers should be fierce. They should be making six-figure salaries. Schools should be incredibly expensive for government and absolutely free of charge to its citizens, just like national defense. That's my position. I just haven't figured out how to do it yet." — Sam Seaborn, Season 1, "Six Meetings Before Lunch"
On a similar note, when Kamala gets the VP nod, she needs to "get caught" doing some kind of dance that can get turned into a TikTok meme. Data point: this video of her celebrating one nation under a groove has already racked up 7.7 million viewers.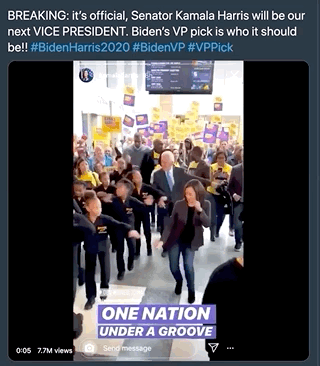 you found hidden filler text!
Zoom fundraisers, as they are currently constructed, aren't the best. One might even go so far as to call them boring. So, I suggest putting together a Mystery Science Theater 3000-esque series where we could enjoy politically poignant movies alongside Biden and his pals. Imagine watching The Big Short alongside Uncle Joe and Lizzy Warren. Or Do The Right Thing with Spike Lee. Or All The President's Men with Bob Woodward. Take my money.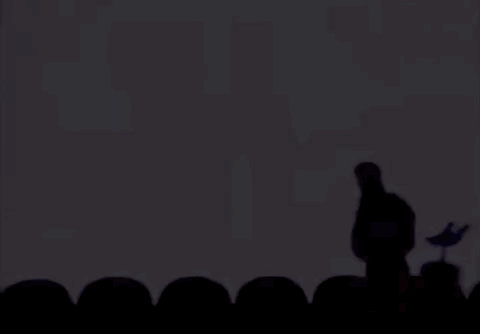 you found hidden filler text!
Interactive graphs. And this goes not just for political campaigns, but media outlets as well. From 2015ish to 2017ish, The New York Times periodically published what they called "You Draw It" infographics, which gave digital readers the chance to draw what they thought the answer to a given question was and then compared it to the actual data. These things were engaging as they were humbling, and they remain one of the best attempts to disarm "partisan stubbornness" as anything I've ever come across: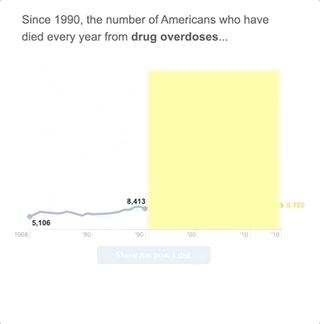 you found hidden filler text!
This is more of a low-hanging fruit suggestion than half-baked idea, but if the Joe Biden Victory Fund online store is going to sell tacky gray tank tops with Biden's signature aviators on it, why aren't they also selling actual Biden branded aviators (besides the fact that most cheap sunglasses are made in China)? Democrats need their own MAGA hat, and for the sake of the nation's public health we can't let a mask be the party identifier.

you found hidden filler text!
Momentum is a ridiculously unexploited app that allows one to donate to a thematically appropriate charity whenever triggered by a certain kind of event. "You could, say, create a rule to donate 10 cents to charities working on criminal justice and refugee assistance every time Donald Trump tweets. Or you could donate $1 to charities that empower girls and women every time Beyoncé posts to Instagram." Obviously, the possibilities here are endless. If I had my druthers though, I would put together a word cloud of the roughly 14 words/phrases Trump uses to describe all things and set it up so that anytime he, for instance, called something "truly amazing," he was effectively donating to his opponent.
you found hidden filler text!
A few weeks ago, after stumbling upon a Kickstarter for "Two Trumps and a Lie," I sent an email to one Seth Griffin of Birmingham, Alabama letting him know how brilliant an idea he had and warning him that if he didn't make a digital version of the game soon someone was bound to rip him off. Now, I'm not saying we rip him off, but maybe we bring him on board to help digitize this brilliant idea?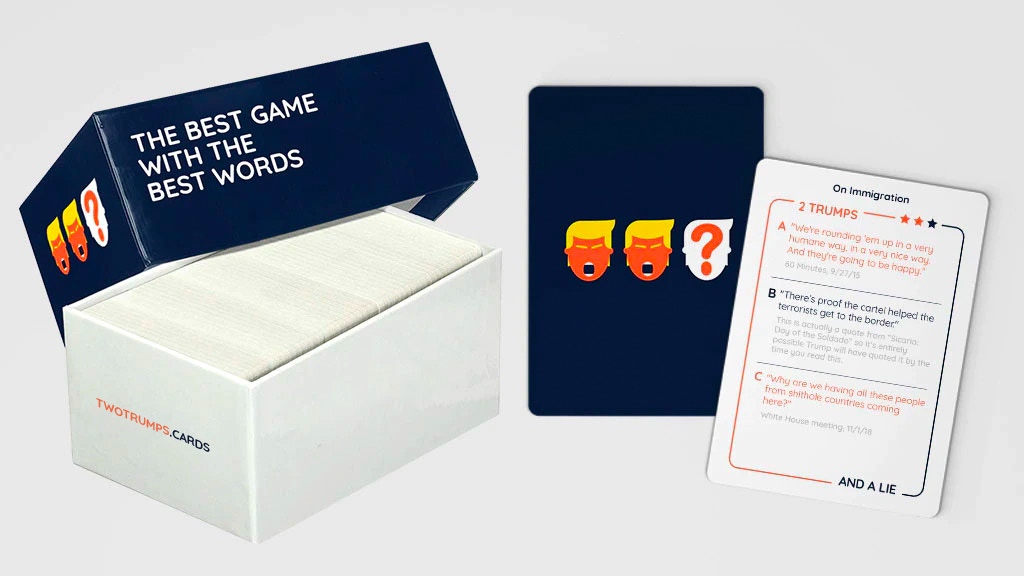 you found hidden filler text!
On July 30, Lawrence O'Donnell had Morgan Freeman on his show to read the last essay penned by his friend, Rep. John Lewis. It was heart-wrenching, it was beautiful, it was instantaneously timeless. And it can be replicated. I want someone from The Bulwark to read the famous "Confessions of a Republican" ad. I want Trevor Noah to deliver at least a few minutes of Nelson Mandela's three-hour "I Am Prepared to Die" address. I want Jon Stewart to perform the final speech from The Great Dictator (…maybe skipping over that last "do away with national barriers" line). Ask Spotify (/Bill Simmons/Michelle Obama); audio is the new visual.
The morning after the beloved yet wildly unathletic Dr. Anthony Fauci threw the ceremonial first pitch for the opening game between the Yankees and Nationals, Topps released a limited-edition Topps NOW card that was only available on their website for 24 hours. Unsurprisingly, it sold out immediately (smashing the previous record of 19,396 cards sold in honor of Vladimir Guerrero Jr.'s debut hit for the Blue Jays). So why not print more? Have him even sign a handful; give the proceeds to COVID relief organizations. Then maybe design one that dutifully commemorates that time Obreezy (sort of) blocked 2001 NCAA National Champion Reggie Love and give those proceeds to insert desired Democratic PAC here.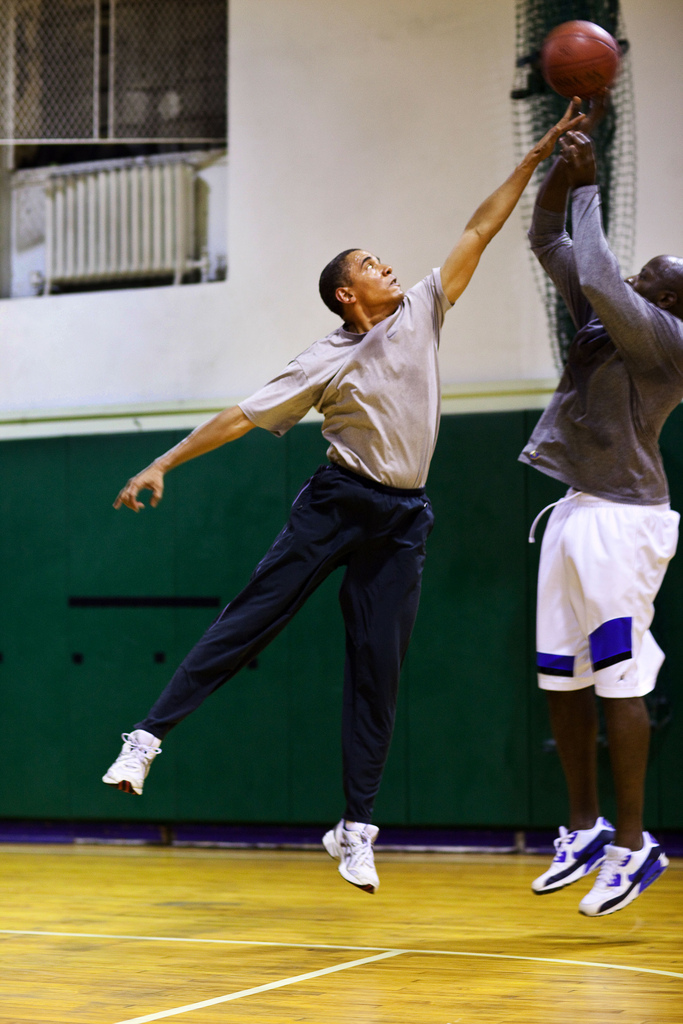 As the good doctor Fauci recently recently reminded us, "We can do phenomenal things if we put our minds and our resources to it."
Right, dad?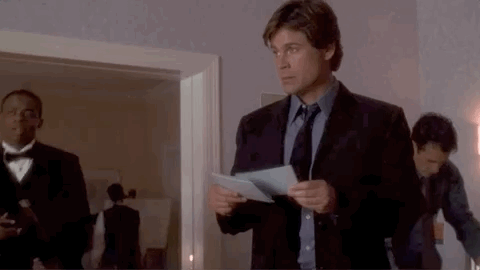 ***
Now, I may be blind in one eye, but one doesn't need depth perception to perceive which way the electoral wind is blowing this election season. It's time for thinking big; not "big thinks."
I'm less visually observant than others, but I make up for it with cunning and guile.

— Sam Seaborn