To quote the greatest political mind of our generation, "Honestly, I am dumb. Most of the time I'm just playing smart."
I am the Son of Sam Seaborn.
* Some of these were pinched from "SON OF SAM SEABORN: The Eagerly Awaited 'Big Think' Deck"
***
I think ambition is good. I think overreaching is good.

— Sam Seaborn, former Deputy White House Communications Director
Okay, here we go…
First idea: From 2015ish to 2017ish, The New York Times periodically published what they called "You Draw It" infographics that gave digital readers the chance to draw what they thought the answer to a given question was and then compared their graph to the actual data. These things were engaging as they were humbling, and they remain one of the best attempts to disarm "partisan stubbornness" as anything I've ever come across: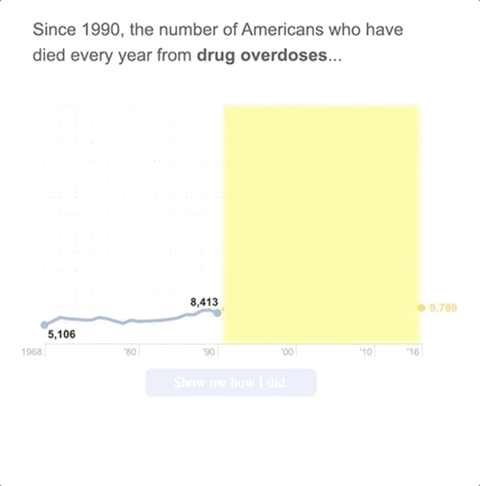 you just found some hidden filler text!
Second idea: Try asking potential voters to draw what they think the "Infection Rate Over Time" graph looks like. Odds are they're going to underestimate the numbers, possibly severely; and it's in that moment, when the accurate line starts diverging from theirs, that you have your best chance to incept them with whatever message you want to highlight. As of right now, that means emphasizing that is only Jon Ossoff and the Reverend Raphael Warnock who can successfully "get [Georgia] out of this pandemic and pass economic relief for working families and small businesses."
you just found some hidden filler text!
Third idea: Momentum is a ridiculously unexploited app that allows one to donate to a thematically appropriate charity whenever triggered by a certain kind of event. "You could, say, create a rule to donate 10 cents to charities working on criminal justice and refugee assistance every time Donald Trump tweets. Or you could donate $1 to charities that empower girls and women every time Beyoncé posts to Instagram." Obviously, the possibilities here are endless. If I had my druthers though, I would set it up so anytime Trump mentioned Perdue or Loeffler on Twitter he was effectively donating to their opponents.
you just found some hidden filler text!
Fourth idea: Zoom fundraisers, as they are currently constructed, aren't the best. One might even go so far as to call them not worth it boring. So, I suggest putting together some kind of Mystery Science Theater 3000-esque event where we could enjoy politically poignant movies alongside the candidates and their pals. Imagine getting to hear them discuss Do The Right Thing with Spike Lee. Or All The President's Men with Bob Woodward. Or the most applicable episode of West Wing next to whatever actor is most involved in said applicable episode.
Money may already be absolutely gushing into the Peach State, but this would be just as much an opportunity for voters to get to know the candidates as it would be a chance to rake in a few extra grand.
you just found some hidden filler text!
Fifth idea: Rembert Browne, of Paideia Class of 2005 fame, needs to come out of longform retirement and do a followup to his 2017 Atlanta Magazine piece "My high school friend Jon Ossoff almost became a Congressman last night."you just fond some hidden filler text!
you just found some hidden filler text!
Sixth idea: Atlanta has birthed some of the biggest names in hip-hop, and there are countless ways they could be deployed. For instance, two days after Election Day, Swizz Beatz announced an "Outkast vs. A Tribe Called Quest" Verzuz Battle (look it up). If someone with more connections than me could ask Swizz to have the artists occasionally promote the upcoming election and post a link where viewers could register to vote, then they'd be the one who was bringing 'em out.
you just found some hidden filler text!
Seventh idea: Some other rapid-fire music-centric ideas: ask Killer Mike, Childish Gambino, Future, and Ludacris to collaborate on a track (maybe with Usher on the chorus?) and set it up so the only way one could listen to it was via an embedded audio player on the Georgia Democrats website; have Sugarland write a "suburban women will love this" song (maybe with "Georgia" in the title?) and make the YouTube video a series of GoTV ads PSAs; get REM to reunite for a blitz of a statewide tour. Joe Biden may have won Athens-Clarke County with 70.2% of the vote, but only 67.5% of Athens voters turned out; significantly lower than the 75.6% who came out in 2016.
you just found some hidden filler text
Eighth idea: The morning after the beloved yet wildly unathletic Dr. Anthony Fauci threw the ceremonial first pitch for the opening game between the Yankees and Nationals, Topps released a limited-edition Topps NOW card that was only available on their website for 24 hours. Unsurprisingly, it sold out immediately (smashing the previous record of 19,396 cards sold in honor of Vladimir Guerrero Jr.'s debut hit for the Blue Jays).
So why not print your own version, Georgia Democrats? Then throw in a pair of Ossoff and Warnock cards in the pack along with the coveted Fauci one so voters can get to know the candidates (look at Sunrise Movement's "dream cabinet" cards for inspiration). Trust me, printing a custom Topps card is much easier and much cheaper than you think: https://www.topps.com/cardbuilder. Plus, if you sign up today you apparently get 10% off.
Good writers borrow from other writers. Great writers steal from them outright.

— Season 4, Episode 2, "20 Hours in America"
Since the 1990s, Democrats have won only one of seven statewide runoffs in general or special elections. And even though Ossoff and Warnock successfully adopted the Stacey Abrams playbook of turning out first-time, young, and diverse voters, they each did worse than Biden (the first Democratic presidential candidate to carry Georgia since 1992).
That being said, the Democratic campaign said on Thursday it has almost 22,000 volunteers scheduled for more than 60,000 hours of volunteer shifts over the next two weeks, recent polling should be cause for optimism, and, as the good doctor Fauci recently reminded us, "We can do phenomenal things if we put our minds and our resources to it."
Right, dad?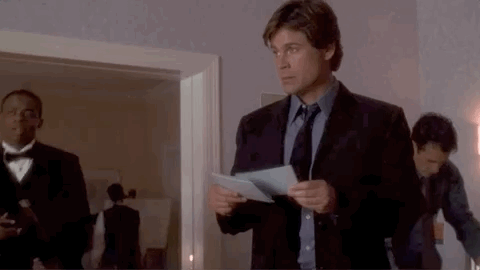 ***
Key dates to remember:
November 18 – Absentee ballots begin going out
December 7 – Deadline to register
December 14 – Early in-person voting begins
January 5 – Election Day
Useful Fun Fact: Georgia law says that if you'll be 18 years old by Election Day, you will be able to register now and vote on Jan. 5.